GOATS AT YOUR NEXT PARTY, EVENT, OR FILM SHOOT!
​We also do goat Yoga!
HOW IT WORKS:
We're mobile! We bring the goats to you!
​
1) Book Our Goats (small deposit required)
2) We arrive 30 minutes prior to your event and set up a pen (if required)
3) Your guests enjoy as much goat time as they would like - photo ops, petting, feeding, and more!
4) We clean up any goat-related messes before we leave
FOLLOW US:

---
Meet our goats
Spanky (brown) and Pippin (white) are two Nigerian Dwarf Goats that were born at
Cottonwood Croft
in Inyokern, California. Spanky is spunky and playful. Pippin is sweet and bouncy. They're both extremely friendly and curious. They're also wethers - meaning neutered males. When they're grown, they will be around 70lbs and have beautiful beards!
Book them today and they'll become your friends too!
Meet our handler - scout raskin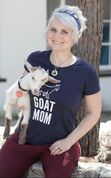 Scout got her start in the entertainment industry at age 7 as "Susie-Q" in John Waters' cult-classic film
Cry-Baby
opposite Ricki Lake and Johnny Depp.
She started Party Goats in spring of 2017 and works in animation; most recently as Production Manager for Rick & Morty - Season 3 on Adult Swim. She's also a member of SAG-AFTRA and welcomes the opportunity to perform on camera - with her goats, of course!
---