We've Got Your GOATS in Los Angeles!
Parties/Events, Goat Yoga, TV/Film, Hiking with Goats, and more... We're mobile - we bring the goats to you!
We're
Los Angeles
' only
party goat rental service
. Yes - real live goats! Make your next event the G.O.A.T. by allowing your guests to photograph, feed, and snuggle our goats.
Book the Party Goats today!
*
Typically we're booking 2-4 weeks in advance!
HOW IT WORKS:
We're mobile! We bring our goats, Spanky & Pippin, to you!
​​
1) Book Our Goats (small deposit required)
2) We arrive prior to your event and set up a pen (if needed)
3) Your guests enjoy as much goat time as they would like - photo ops, petting, feeding, and more!
4) We clean up any goat-related messes before we leave

Meet Our Goats: Spanky & Pippin!
Meet Our Goat Mom, Scout!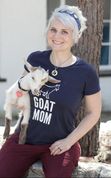 Scout, Party Goats LA's founder, got her start in the entertainment industry at age 7 as "Susie-Q" in John Waters' cult-classic film
Cry-Baby
opposite Ricki Lake and Johnny Depp.
​She started Party Goats Los Angeles in spring of 2017 and as Animation Producer in such productions as Rick & Morty - S3 for Adult Swim and Cosmos - Season 2 for FOX. She's also a member of SAG-AFTRA and welcomes the opportunity to perform on camera - with her goats, of course!
---
Meet Our Wranglers:
Madison

Madison was born in Spokane, WA. She grew up Farming and Ranching in Havre, Montana and studied at Montana State University in Bozeman, Montana. She graduated with a BFA in Painting and English Literature before coming to Los Angeles. Much of her work consists of commissioned work and narratives. Her recent work consists largely of figure portraits and wildlife paintings, where she gets to combine her love for animals and people.

---

Katelyn

When Katelyn isn't saving lives as an EMT, she's partying it up with Spanky & Pippin!

​She enjoys BMX and other motocross sports, as a spectator of course. She's got the perfect amount of bedside manner and a special bond with Pippin!

---

Orosolya

Growing up in the Rust Belt region of Ohio; Orsolya (pronounced Ursula) developed a flair for both rural and urban pursuits. With an interest in the arts, Orsolya moved 3000 miles to Los Angeles to work in the music industry.

​However, her true happiness comes from caring for animals both big and small. Aside from her personal pets (cat and tree frog!), Orsolya loves bird-watching, horseback riding, and of course: goats. Orsolya will happily introduce you to the world of Spanky and Pippin and all of their goat antics!

---