Party Goats FAQ
41) Is there an age minimum?
Nope! However, please use your best judgment when booking. Our goats are very friendly and sweet, but safety is the best policy. Kids should approach the goats in a calm manner and be supervised at all times while interacting with them.

2) Can adults have goats at their events too?
Absolutely! In fact, the majority of our parties are for adults.

3) Can we feed the goats?
Of course! Our handler will bring goat-approved snacks so all your guests will get to feed them. If you're lucky - they might even do a trick for you! We ask that you never feed them people food as it can make them very sick.

4) How many people can play with the goats?
There's no maximum if you have a fenced yard and want them to roam free. If using a goat pen, we allow a maximum of 3 guests inside at a time.

5) What kind of goats are they?
They are Nigerian Dwarf Goats - the kind commonly seen in petting zoos. They are known for their friendly disposition and sweet nature. Our goats are AGS (American Goat Society) registered.

6) How big are your goats?
Spanky & Pippin are 10 months old, so they're almost fully grown. Spanky is 35lbs and Pippin is 45lbs. Pip is too big to be on your back for yoga, but has been re-trained to use his front hooves only to deepen stretches.

7) Do your goats have horns?
Yes, but our goats are not aggressive and their horns will be taped up to prevent injury. It's always best to approach them with a calm attitude.

8) What happens if the goat bites or kicks someone?
We've never had this happen. We're fully insured against injury in the unlikely event that something would occur. Also, our handler will supervise every interaction during your event.

9) Can I have goats visit my apartment courtyard?
Please check with your landlord before booking.

10) Can I have goats visit a public park?
As long as it's a pet-friendly park, it shouldn't be a problem.

11) Will the goats cause a big mess?
Goats can't be trained to do their business in a certain area, so they go as they please. Goat poo is in the form of small pellets, so it's easily swept up and has so smell. No worries tho - We will clean up any goat-related messes and leave your yard like new.

12) Do your goats get along with other animals?
Our goats were raised around dogs so they are animal-friendly. If you would like your pet to interact with the goats, please discuss this prior to booking.

13) Where do your goats live?
Spanky & Pippin live with their mom, Scout, and a menagerie of animal brothers and sisters in the La Tuna Canyon neighborhood of Sun Valley, just north of Burbank in Los Angeles. The have a playground fully-equipped with enrichment toys such as soccer balls, tires, and a trampoline. At night they sleep in a barn to protect them from wildlife. They are extremely well-cared for and showered with love at all times. They truly are Scout's "kids!"

14) Do the goats enjoy going to parties, doing Goat Yoga, and TV/Film?
The short answer is yes. Spanky & Pippin love exploring new places and meeting new people at parties. They are extremely curious and friendly to everyone of all ages. They also enjoy Goat Yoga and performing for the camera. We don't force them to do things they don't want to do and make sure to encourage their participation using love and positive reinforcement.
Meet Our Goat Mom, Scout!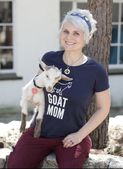 Scout, Party Goats LA's founder, got her start in the entertainment industry at age 7 as "Susie-Q" in John Waters' cult-classic film
Cry-Baby
opposite Ricki Lake and Johnny Depp.
She started Party Goats Los Angeles in spring of 2017 and works as an Animation Producer on such shows as Rick & Morty - S3 for Adult Swim and Cosmos - Season 2 for FOX. She's also a member of SAG-AFTRA and welcomes the opportunity to perform on camera - with her goats, of course!
​
---
Meet Our Wranglers:
Madison

Madison Ruff was born in Spokane, WA. She grew up Farming and Ranching in Havre, Montana and studied at Montana State University in Bozeman, Montana. She graduated with a BFA in Painting and English Literature before coming to Los Angeles. Much of her work consists of commissioned work and narratives. Her recent work consists largely of figure portraits and wildlife paintings, where she gets to combine her love for animals and people. ​

---

Katelyn

When Katelyn isn't saving lives as an EMT, she's partying it up with Spanky & Pippin!

​She enjoys BMX and other motocross sports, as a spectator of course. She's got the perfect amount of bedside manner and a special bond with Pippin! ​

---

Orsolya

Growing up in the Rust Belt region of Ohio; Orsolya (pronounced Ursula) developed a flair for both rural and urban pursuits. With an interest in the arts, Orsolya moved 3000 miles to Los Angeles to work in the music industry.

​However, her true happiness comes from caring for animals both big and small. Aside from her personal pets (cat and tree frog!), Orsolya loves bird-watching, horseback riding, and of course: goats. Orsolya will happily introduce you to the world of Spanky and Pippin and all of their goat antics!

---